Flaming Torchlight Canoe Trip
Sep 2, 2018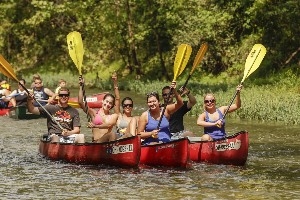 Departure is One Hour before dust.
(7:30pm in summer months and 6:30pm in fall months.)
There is always something unique happening in the Hocking Hills. Join us for a fantastic way to enjoy the pristine Hocking Hills scenery at night. Night time canoeing is a unique experience. The Hocking River is calm and peaceful before the night fall. Experience the Hocking River as it quietly settles in for the night. The tiki torch will help lead the way, but do not only use your sense of sight. Let your other senses guide as you will find something surreal about the water, the trees and the surrounding wildlife.
Trip Details - Flaming Torchlight Tours are scheduled to depart roughly an hour before dusk. The trip launches at our Crocketts Run launch and concludes at the canoe livery landing. Plan to be on the river about 1-2 hours. Prepare to paddle the first hour during the sunset and the second hour under the full moon. Plan to stick around after the trip for live music and smores.
Cost: $45 per canoe
Contact
31251 Chieftain Drive
Logan, Ohio 43138
Phone: 740-385-8685
Interest Tags
Outdoor Activity, Family Oriented, Special Interest, Arts/Music/Film,
Nearby Activities and Attractions