Cedar Falls
If one were to venture down the Lower Gorge of Old Man's Cave, you would eventually enter the picturesque valley of Queer Creek. At the point where Old Man's Creek merges with Queer Creek, the trail takes an abrupt turn east and enters this new valley. The trail leading to Cedar Falls passes through the most austere area in Hocking Hills. This remote, primitive chasm is laden with hemlock and bound by steep rock walls and their accompanying grottos and waterfalls. It is a wild and lonely but spectacularly beautiful place.

&copy Bud Schrader Photography
Cedar Falls itself is the greatest waterfall in terms of volume in the Hocking region. Queer Creek tumbles over the face of the Blackhand sandstone displaying the awesome force of water power.
In the mid 1800's, a grist mill was built above the falls to utilize this water power for grinding grain.
Cedar Falls was misnamed by early white settlers who mistook the stately hemlocks for Cedars. A well kept picnic area and restrooms are located in the parking area above the falls.

&copy Bud Schrader Photography
Democracy Steps, leading down to the falls were created by Akio Hizume, artist, architect and mathematician. Drawing from his love of nature and expertise in the relationships among numbers and dimensions, Akio designed a staircase descending gently down the hillside leading from the parking lot to Cedar Falls. Akio set out to create a serpentine walkway that feels as graceful as it looks. His goal was to make the act of ascending or descending the nearly 100 steps pleasant and relaxing; not the tiresome chore of climbing up or down the typical set of uniform, periodic stairs. The lengths of individual steps are varied, so that walkers alternate the leading foot, establishing a comfortable pace and rhythm. Though it seems like second nature, this walking rhythm was planned carefully and deliberately. It reflects mathematical principles of the Fibonacci sequence and the one-dimensional Penrose lattice.
Cedar Falls Hiking Trail Map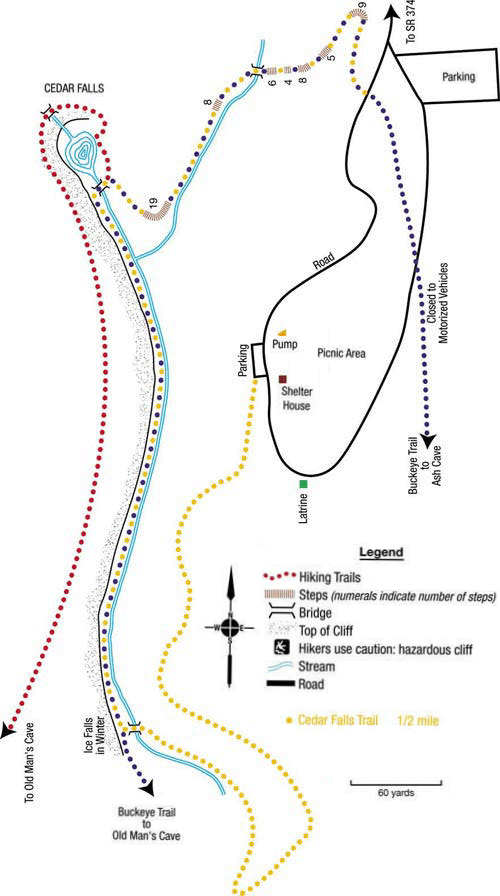 Location Map
Calendar of Events
CHASING WATERFALLS AT CEDAR FALLS

Thu Sep 7

Embark on a captivating adventure as we invite you to join us for a moderate, 1-mile round trip hike to witness the awe-inspiring Cedar Falls, known for its powerful cascades within the park. Will the water be rushing with fervor or gently trickling? Join us on this expedition to uncover the current state!

Our rendezvous point is at trailhead H, located at the Cedar Falls Parking Lot. We advise you to come prepared for the weather conditions and be ready to navigate steps along the trail.

At Cedar Falls Parking Lot

10:00 AM - 11:00 AM

Children must be accompanied by an adult at all times. Recreation programs and activities can be inherently dangerous. Participants accept and acknowledge that any injury or property damage that occurs during a program or activity is not the responsibility of ODNR or its naturalist educators.

Cost: Free

Contact: Hocking Hills State Park, Phone: 740-385-6842

Interest Tags: Outdoor Activity, Family Oriented, Special Interest, Wildlife,
CHASING WATERFALLS AT CEDAR FALLS

Thu Oct 5

Embark on a captivating adventure as we invite you to join us for a moderate, 1-mile round trip hike to witness the awe-inspiring Cedar Falls, known for its powerful cascades within the park. Will the water be rushing with fervor or gently trickling? Join us on this expedition to uncover the current state!

Our rendezvous point is at trailhead H, located at the Cedar Falls Parking Lot. We advise you to come prepared for the weather conditions and be ready to navigate steps along the trail.

At Cedar Falls Parking Lot

10:00 AM - 11:00 AM

Children must be accompanied by an adult at all times. Recreation programs and activities can be inherently dangerous. Participants accept and acknowledge that any injury or property damage that occurs during a program or activity is not the responsibility of ODNR or its naturalist educators.

Cost: Free

Contact: Hocking Hills State Park, Phone: 740-385-6842

Interest Tags: Outdoor Activity, Family Oriented, Special Interest, Wildlife,
Photo Gallery
(click on an image to enlarge)