Hocking State Forest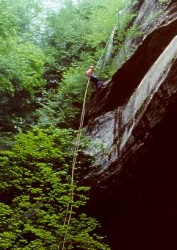 The Hocking State Forest land encompases over 9000 acres. A visit to the Hocking State Forest can take you back to the past and provide a glimpse of the future. The sandstone cliffs reveal a time 300 million years ago when the rivers to the east flowed into a swallow sea covering what in now called Ohio. Over geologic time, the land rose and small streams cut through the rock leaving the spectacular cliffs and waterfalls present today.
Remnant communities of birch and hemlock tell of times when the climate was much colder and glaciers threatened (but were stopped by the hills just to the north). Large diameter 400 to 500 year old trees tell of simpler times amd primitive technology. More recent changes are exhibited by old road beds, abandoned homesites, and stands of pine trees now growing in what were 19th century corn, wheat and hay fields.
Multiple Use Forest Management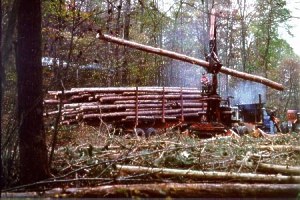 Today, Hocking State Forest is managed for a variety of objectives including examples or demonstration areas of sound scientific sustained multiple-use management. Timber harvesting is closely monitored so it does not exceed the rate of tree growth. Erosion is actively controlled. Outdoor recreation is developed and encouraged. Habitat is provided and managed for game and non-game wildlife species. The State Forest System is dedicated to providing an example of sound multiple-use land stewardship.
One of the special attractions of the Hocking State Forest area is the natural vegetation. Plant species commonly found farther north mix with typically southern species to provide and unusual variety of native plant life and associated wildlife.
Virginia and pitch pines, sasafras, and black, scarlet, white and chestnut oaks grow on the generally dry ridge areas. Hemlock, beech, black birch, red and sugar maples, yellow poplar, white ash, red oak, basswood and hickories grow in cool gorges, moist coves and on slopes. Flowers, shrubs and ferns commonly associated with these site conditions also abound.
Plantations of red, white, and shortleaf pines have developed from plantings of seedlings on abondoned farm fields.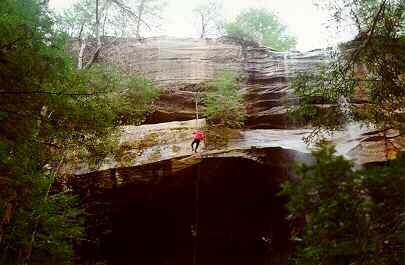 Rock Climbing & Rappelling Area
Ninety-nine acres of forest land have been set aside for rock climbing and rappelling. The area is located on Big Pine Road, one mile east of Conkle's Hollow. A parking area is within easy walking distance of the rock and cliff face. There you will find excellent terrain for this growing sport. Be sure to use quality equipment and climb with experienced people.
View Map of Rock Climbing Area
Hunting & Fishing
Hunting and fishing are permitted within Hocking State Forest as regulated by the Division of Wildlife. Shooting is prohibited within 400 feet of any building, facility, recreation area or within any designated nature preserve. Shooting from or across any road or driveway, and discharge of any firearm, except during lawful hunting, are also not permitted.
State Nature Preserves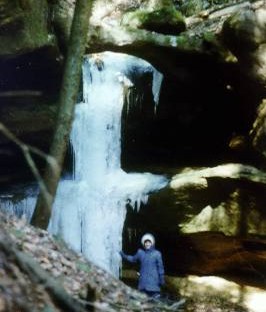 Two state nature preserves have been established in Hocking State Forest. These preserves - Sheick Hollow and Little Rocky Hollow - have unique and fragile ecological systems. The preserves are managed by the ODNR Division of Natural Areas and Preserves.
Sheick and Little Rocky Hollows are designated as interpretive and scientific preserves respectively, and are not open to the general public. Admission is by permit only. Permits are issued by the Division of Natural Areas and Preserves who cooperatively administer the preserves.
Trail & Boundary Marks
Many different colors of paint are seen on trees throughout the area. Yellow spots indicate the boundary between state and private land. White and/or red spots are the boundaries around the nature preserves. Blue spots desingate the Buckeye Trail. Red, orange, and purple-blazed bridle trails radiate from the horse camp. When traveling away from camp on these three main trails the blazed markings will be on your right. When returning to camp, they will be on your left. Green blazes mark the side trails. These red, orange, purple and green blazed trails are the only designated horse trails. Horses are also allowed on the Buckeye Trail (Blue Blazes) in the state forest, but must follow the bypass around the Old Man's Cave, Cedar Falls, and Ash Cave state parks.
Horsemen's Camp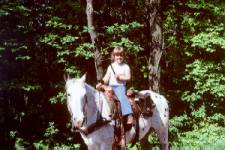 Hocking State Forest offers a primative camping area for bridle trail users. The camp area is located off of the Laurel Township Road 231. This facility contains 23 campsites that are large enough to accomodate most rigs. A water supply is available for horses only. There is no fee for use of the area, but it is required that each camper complete a self registration form.
Adjacent to the Horsemen's Camp is a staging and parking area for people using the bridle trails for not more than one day. This area is large enough to accomodate a number of day use rigs. (View map of bridle trails.)
General Rules for Forest Visitors
The Hocking State Forest area receives hundreds of thousands of visitors each year. Please respect the forest community that you find. Your consideration of other visitors using the forest will help provide an enjoyable experience for all.
Visitors are free to walk on state forest property during daylight hours. However, because of the many cliffs located throughout the area, extreme caution is urged particularly when ice or snow is present. Because of thses hazards, Hocking State Forest closes at dark.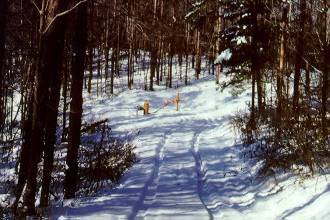 Motor vehicles are restricted to roads open for public travel and designated parking areas.
Use of horses is permitted on designated bridle trails only.
There are no provisions for ATVs or mountain bikes.
Disturbance or defacement of any property, material, natural feature or vegetation is prohibited. Berries, nuts and mushrooms may be gathered and removed, except from seed orchards or nature preserves.
Camping and building of fires are prohibited except in designated areas.
View a State Forest Map
Location Map
Hocking State Forest Bridle Trail Map
Hocking State Forest Rock Climbing Area Map
Calendar of Events
there are no events listed at this time....
Photo Gallery
(click on an image to enlarge)