Old Man's Cave
The most popular of all the Hocking areas is Old Man's Cave, located on State Route 664. Here at the Upper Falls, the Grandma Gatewood Trail begins its six-mile course connecting three of the park's areas: Old Man's Cave to Cedar Falls to Ash Cave. This same trail has been designated as part of Ohio's Buckeye Trail as well as part of two national systems - the North Country Scenic Trail and America's Discovery Trail.

&copy Bud Schrader Photography
Old Man's Cave derives its name from the hermit Richard Rowe who lived in the large recess cave of the gorge. His family moved to the Ohio River Valley around 1796 from the Cumberland Mountains of Tennessee to establish a trading post. He and his two dogs traveled through Ohio along the Scioto River in search of game. On one side trip up Salt Creek, he found the Hocking Region. Rowe lived out his life in the area and is buried beneath the ledge of the main recess cave. Earlier residents of the cave were two brothers, Nathaniel and Pat Rayon, who came to the area in 1795. They built a permanent cabin 30 feet north of the cave entrance. Both brothers are buried in or near the cave. Their cabin was later dismantled and relocated on the nearby Iles farm to be used as a tobacco drying house.

&copy hockinghills.com
The Old Man's Cave area can be divided into five principal sections found along the valley of Old Man's Creek. In order, they are: Upper Falls, Upper Gorge, Middle Falls, Lower Falls and Lower Gorge. Along the length of the trail the magnificent gorge cuts through the entire 150-foot thickness of the Blackhand sandstone. Carved by the creek, the gorge serves as an avenue for visitors to peer into the earth's subsurface. The full distance of the gorge is approximately one half mile.

&copy hockinghills.com
Whispering Cave Trail Map (new)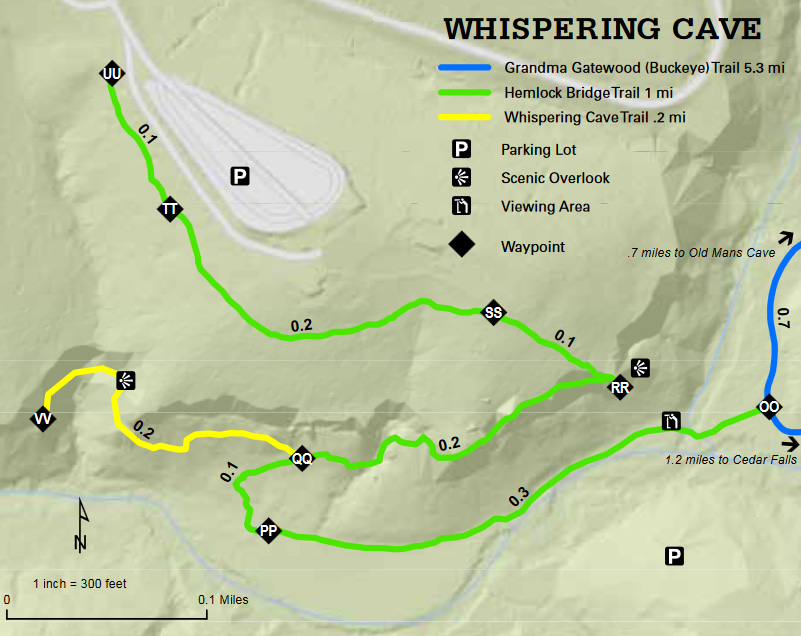 Old Man's Cave Hiking Trail Map

Location Map
Old Mans Cave Campground Map
Old Mans Cave Cottage Map
Calendar of Events
DIY Turkey Calls

Sat Nov 18

Want to summon your own turkey? Join us at the Old Man's Cave Visitor Center to craft your recycled turkey calls. Limited supplies, so get here early!

At Old Mans Cave Visitor Center from 10am to 11am.

Cost: Free

Interest Tags: Family Oriented, Special Interest, Wildlife,
Old Mans Cave Hike

Tue Nov 21

Join us every Tuesday for a moderate, 1 mile round trip through the gorge. Meet us at the Old Mans Cave Visitor Center at 10 AM - 11 AM.

Cost: Free

Interest Tags: Outdoor Activity, Family Oriented, Special Interest, Wildlife,
Nature Ornaments

Sat Nov 25

Join the Old Mans Cave Visitor Center in creating your very own nature ornament! Supplies are provided.

At Old Mans Cave Visitor Center from 10am to 11am.

Cost: Free

Interest Tags: Family Oriented, Special Interest, Arts/Music/Film, Wildlife,
Old Mans Cave Hike

Tue Nov 28

Join us every Tuesday for a moderate, 1 mile round trip through the gorge. Meet us at the Old Mans Cave Visitor Center at 10 AM - 11 AM.

Cost: Free

Interest Tags: Outdoor Activity, Family Oriented, Special Interest, Wildlife,
Old Mans Cave Hike

Thu Nov 30

Join us for a moderate, 1 mile round trip through the gorge. Meet us at the Old Mans Cave Visitor Center at 10 AM - 11 AM.

Cost: Free

Interest Tags: Outdoor Activity, Family Oriented, Special Interest, Wildlife,
Mammals of Ohio

Sat Dec 16

Curious about local hillside mammals? Visit the Old Man's Cave Visitor Center to explore pelts and skulls from our furry neighbors.

At Old Mans Cave Visitor Center from 10am to 11am.

Cost: Free

Interest Tags: Family Oriented, Special Interest, Arts/Music/Film, Wildlife,
Nature Detective

Sun Dec 17

Come solve mysteries of nature at the Old Man's Cave Visitor Center. Test your detective skills at each nature scene.

At Old Mans Cave Visitor Center from 10am to 11am.

Cost: Free

Interest Tags: Family Oriented, Special Interest, Arts/Music/Film, Wildlife,
Winter Hike at Hocking Hills

Sat Jan 20

Enjoy winters splendor on this 6 mile trek from Old Mans Cave to Ash Cave. Layered clothing and good footwear recommended. Continuous starts from 9 - 11a.m. Logan Kiwanis Club famous bean soup and cornbread muffins are served at Cedar Falls (donations appreciated). A shuttle bus returns hikers to Old Mans Cave parking area.

Cost: Free

Contact: Hocking Hills State Park, Phone: 740-385-6841

Interest Tags: Outdoor Activity, Family Oriented, Special Interest, Wildlife,
Photo Gallery
(click on an image to enlarge)