Art Telegram from The Pit
Jul 1 (Fri) thru Sep 30 (Fri)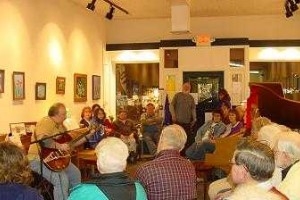 Mary Kay Walsh was born in Hocking County in 1951. She graduated from Logan High School and pursued her passion for art with a scholarship in hand to attend CCAD in 1969. Ms Walsh received a bachelor of fine arts with a focus on painting. During this era she began going by the artist name Patches, or MK Walsh. Mary Kay had a business in stained glass called a?oSunlight Glass Worksa?? in Columbus during the late 70s to early 80s. In the 80s she married and her name became Mary Yates, but she still uses Patches or MK Walsh as her artist names. She started painting again in 2021 during the pandemic, using her basement as her studio. Her media is collage and acrylic paint on canvas.
a?oMy painting is an expression of my feelings of life. I hope you enjoy my work.a?? - Mary Kay
Meet the Artist from 5-7 p.m. on July 29. Great music and refreshments provided.
Monday 9:00 - 5:00
Tuesday 9:00 - 5:00
Wednesday 9:00 - 5:00
Thursday 9:00 - 5:00
Friday 9:00 - 5:00
Saturday 9:00 - 5:00
July 29, 2022
Friday 5:00 p.m. - 7:00 p.m.
48 West Main Street
Logan, 43138
Cost: Free
Contact
48 W. Main Street
Logan, Ohio 43138
Phone: 740-380-6683
Interest Tags
Outdoor Activity, Wildlife,
Nearby Activities and Attractions