The Complete Guide to Getting Married in Hocking Hills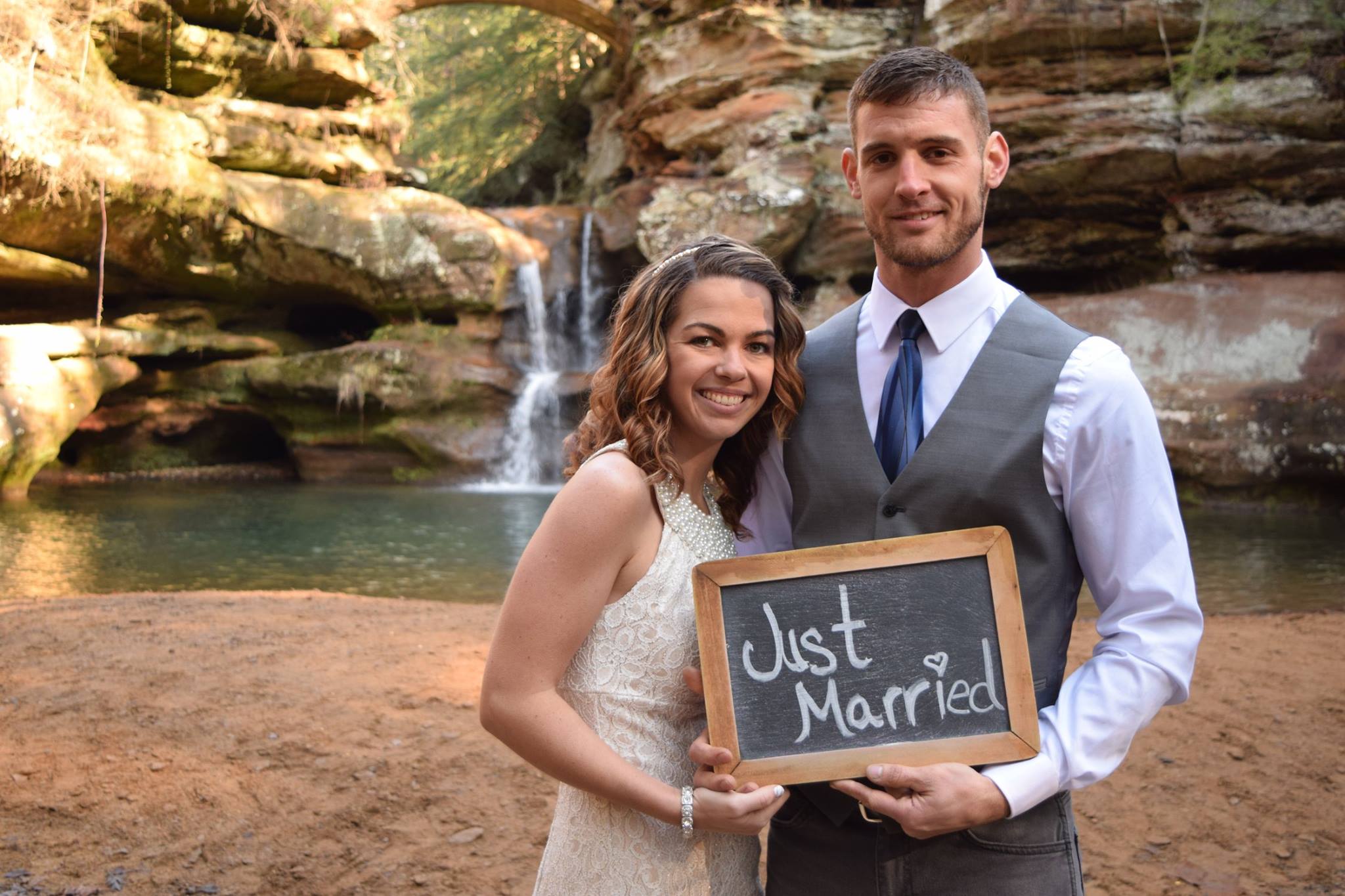 Hocking Hills is a top destination for marriages in all of the midwestern United States. Each year, thousands of couples say "I do" next to picturesque waterfalls or cave within our scenic, natural region. While your wedding day will be a dream come true, planning your big day can be a stressful process. We will take you through some of our top picks for wedding locations, florists, cakes, photographers, and even lodging. We will highlight some companies that have large lodges to host your wedding and a couple companies who have separate lodging in walking distance of each other. Sit back and relax while we walk you through all you need to know for your Hocking Hills wedding.
Obtaining a Wedding License
You must obtain a wedding license when getting married. Please keep in mind the following:

If you live in Ohio, but you don't live in Hocking County you will need to get a marriage license in the county you live in. Marriage Licenses are typically valid for 60 days.

If you're not from Ohio obtain your license at the Hocking County Probate Court. Details are below.

If one of you lives in Hocking County obtain your license at the Hocking County Probate Court. Details are below.

Hocking County Court House
1 East Main Street, Logan, Ohio 43138
Second floor office #204
740-385-3022

Requirements for Obtaining a Marriage License
Please bring with you the following items to obtain your marriage license:

ID Requirement: Bring your ID - driver's license, passport, or state ID. You will also need to know your social security number. If you have been previously married be sure to bring a certified copy of a divorce decree or a copy of the deceased spouse's death certificate.
The partners who are getting married should both be present when obtaining the license.

Fees: $60. Cash only.


Obtaining a Permit to Get Married at a Hocking Hills State Parks - Old Man's Cave, Ash Cave, Cedar Falls
This is only necessary if you plan to get married at one of the Hocking Hills State Parks including Old Man's Cave, Ash Cave, Cedar Falls, etc.
If you would like to get married at Old Man's Cave, Ash Cave, Cedar Falls, or any of the other Hocking Hills parks, you must obtain a permit. Call the park office at (740) 385-6842 extension 250 for details on obtaining a wedding permit. If necessary, write a letter addressed to the park manager stating the time and date of your wedding, and the location you would prefer. Make sure to include back up dates in case there is already a wedding or event planned at that location for your date. The address of the state park office is 19852 State Route 664 S Logan, Ohio 43138.
Hocking Hills State Park will open wedding permit applications starting June 1st, 2021. To have a wedding at a Hocking Hills park (Old Man's Cave, Ash Cave, etc.) you must get a permit. You can apply for a wedding permit by calling the park at 740-385-6842 extension 250
Elopement Options
Hocking Hills Cabins
Looking for something simple, quick, and easy? Hocking Hills Cabins offers elopement packages for you to choose from and options for your honeymoon cabin. They take care of all the details for you so you can enjoy your special day!
Hocking Hills Cabins
Hocking Hills Cabins Weddings Info
The Traveling Chapel
The Traveling Chapel will bring the wedding to you. You can choose from their private gazebo, a hocking hills state park or a location of your choosing within the hocking hills region. They provide the service for an elopement or wedding at the location of your choosing. Book your romantic cabin with their cabin company four seasons cabins.
The Traveling Chapel Cabins
The Traveling Chapel Website
Event Spaces for Weddings and Receptions
Heart of the Country Event Barn
Heart of the Country Event Barn is a newer, indoor event space in the Hocking Hills. Located in Rockbridge, it can hold up to 300 guests. They have some onsite lodging options for your wedding party to stay in! Beautiful scenic location for an outdoor wedding!
Learn More about Heart of The Country Event Barn
Woodland Ridge Lodging
Woodland Ridge Lodging offers their luxurious Majestic Oaks Lodge designed for weddings. The lodge sleeps up to 39 guests complete with hot tub, an indoor pool and additional close by accommodations for parties with more than 39 guests. The Majestic Oaks Lodge offers a 26 foot by 50 foot pavilion with 160 white folding chairs for your special day.
Learn More about Majestic Oaks Lodge
Olde Dutch Restaurant
Old Dutch Restaurant and Banquet Haus is a great place to throw a wedding reception. Don't worry about having to find a company to cater your reception. Old Dutch can hold up to 150 guests and can provide food for your wedding reception!
Learn more about Olde Dutch Banquet Haus
Above The Brewery
Above the Brewery 33 event space can accommodate up to 100 guests. With the brewery located downstairs you won't run out of beer!
Learn more about Above The Brewery Venue
Florist
Darlene's Flowers
Darlene's Flowers is a family owned and operated company that serves the Hocking Hills area. Whether you need a bouquet, boutineer or flower petals she has you covered.
Learn more about Flowers By Darlene
Cakes
Country Lane Cakes
Country Lane Cakes provides breathtaking, one of a kind cakes. She can make a cake for an elopement or wedding. Each cake is custom-made and is by order only. Each cake is different in design, flavor and size. What creative cake do you have in mind?
Country Lane Cakes Facebook Page
Photographers
Captured Photography
Husband + Wife Photo Team - Capture for a moment. Keep for a lifetime.
Learn more about Captured Photography
Places to Stay For Larger Weddings
Bourbon Ridge Retreat
Bourbon Ridge Retreat has 2 cabins and 3 lodges all on same property. All accommodations have pools! Makers Lodge and Angel's Envy can hold up to 24 people in each lodge. The ridgemont lodge can hold up to 14 people. Woodford cabin and booker cabin can hold up to 4 people each. With private hiking trails onsite, what more could you ask for!
Learn More about Bourbon Ridge Retreat
Bourbon Ridge Retreat Website
A Beautiful Life
A Beautiful Life in The Hocking Hills has 10 cabins varying in guest capacity from 2 to 23 all on the same acreage and all within walking distance or a very short drive. 2 person cabins include: The John and Yoko, The Johnny and June, The Scott and Zelda. The James and Nora and The Poet's Tree can hold up to 6 guests in each cabin. On A Lark can hold up to 10 guests. The Crooked Crow can hold up to 11 guests. The Swank Sinatra can hold up to 13 guests. The Lazy Rooster can sleep up to 19 and has a swimming pool. The Humble Peacock can hold up to 23 guests. All the cabins have access to our pond with catch & release fishing and pedal boats.
Learn more about A Beautiful Life in Hocking Hills
Hocking Hills Serenity Cabins
Hocking Hills Serenity Cabins is perfect for those who are seeking a small cozy cabin for 1-4 guests, a medium family cabin for 4-6 guests, a large cabin for 16+ guests, or a grand lodge type facility (28+ guests). Choose from 15 of their cabins, they have something to meet all your needs! Some of their lodging is on the same property!
Learn more about Hocking Hills Serenity Cabins
Blue Rose Cabins
Blue Rose has a total of 16 cabins with a total capacity of 56 guests. They have a good mix of couples cabins, and cabins that sleep 6, 8, and 10. 13 of their cabins are all off the same main drive and they could walk on the drive to get to different cabins. Three of their other cabins are across the road.
Learn more about Blue Rose Cabins
Hill Lodging Company
Hill Lodging Company has 2 sets of lodges that are next to each other. Pine hill lodge (12 guests) and Cypress Hill Lodge (14 guests) are within walking distance to each other. Also Rocky Hill Lodge (16 guests) and Hickory Hill Lodge (18 guests) are within walking distance of each other. Rose Ridge Lodge can hold up to 20 guests and is walking distance to Old Man's Cave.
Learn more about Hill Lodging Company
Harvest Moon Cottages
Harvest Moon Cottages has one lodge and four cabins on the same property that is in walkable distance from each other. They can accommodate up to 36 guests between the lodge and four cabins. The lodge can hold up to 16 people in itself alone.
Learn more about Harvest Moon Cottages
Contact
Logan, Ohio 43138
Interest Tags
Hocking Hills, Weddings, Wedding License, Venues, Officiant, Lodging, Cakes, Florists, Photographers
Nearby Activities and Attractions