Lodges with Swimming Pools
Fun for the whole family! Find the perfect vacation rental for your next family getaway.
Learn more
Hiking Trails
Discover Hocking Hills most popular hiking trails. Explore our waterfalls, caves, and natural scenic wonders.
Hiking Trails
Top 11 Things to Do

1
Visit Old Man's Cave
The most popular of all the Hocking areas is Old Man's Cave, located on State Route 664. Here at the Upper Falls, the Grandma Gatewood Trail begins its six-mile course connecting three of the park's areas.

2
Stay in a Cabin
'Cabins' range from small peaceful romantic cottages to medium family-size cabins to large lodges that will accommodate multiple families. Our availability search engine can help you find the perfect place to stay quickly and easily.

3
Walk to Ash Cave
In the southernmost reaches of Hocking Hills is Ash Cave which is perhaps the most spectacular feature of the entire park. Ash Cave is the largest recess cave in the state.

4
See Cedar Falls
Cedar Falls itself is the greatest waterfall in terms of volume in the Hocking region. In the mid 1800's, a grist mill was built above the falls to utilize this water power for grinding grain.

5
Canoeing
There are canoe launches, and rentals, at Lake Hope and Lake Logan State Parks. On the Hocking River several liveries offer varying length canoe, kayak, and raft trips on the usually leasurely moving waters. A great way to spend a hot summer days. Full moon river trips are also offered during the summer months!

6
Ride the Ziplines
Some of the largest and most exciting ziplines in the mid west can be found here in the Hocking Hills.

7
Hiking Here & Hiking There
With 9 State Park and Nature Preserves, 3 State Forests, a National Forest, and local and metro parks, plus a large section of the Buckeye Trail, you simply will not run out of places to hike. Trails range from extremely rugged to as easy as the preverbial 'walk in the park'. Portions of the trails at Cedar Falls and Conkle's Hollow are marked wheelchair accessible.

8
Camping
During the Spring, Summer, and Fall months the campgrounds are bustling with activity. Many of the area State Parks offer camping as do wide variety of privately owned campgrounds that may be less crowded.

9
Attend Festivals and Annual Events
No matter what time of year you visit the Hocking Hills we will have something for you to celebrate. The region is teeming with festivals from moonshine to pawpaws, lillies to coal, ribs to apples. Whether your passion is for the area's rich cultural history, the culinary scene or distinctive blend of bluegrass and country music, we have a festival for you.

10
Take Day Trips
If you can stay a few days in the Hocking Hills there are several nearby places you may want to see. Let the Hocking Hills serve as your "home base" and head out in a different direction each day. Most day trips are less than a one hour drive.

11
Yoga and Guided Nature Hikes
Whether you're in search of a getaway for physical, emotional or spiritual wellness, there are multiple great options in Hocking Hills.

Follow Us on Facebook
Exclusive deals, last minute specials, upcoming events, and more!
New State Park Lodge Coming Soon!
The new Hocking Hills State Park Lodge is expected to open in October, 2022.
Learn more
Hocking Hills App -
FREE!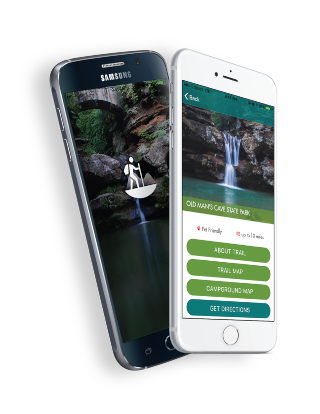 Now it is easier than ever to stay up to date.
Hike the trails with offline maps!
Download the App and bring it with you as a quick reference to help find your way around. With the Hocking Hills App you can receive special deals on lodging, food and activities. Stay abreast of changes to our calendar of events. The information provided in our App will make your next Hocking Hills visit even more enjoyable.
more great stuff

Video Gallery
Photo Gallery
Shop Local
Lodging Bargains
Historical
Places and Events
Visitor
Discount Cards
tourism community forum
JOIN OUR COMMUNITY
Ask Questions. Get Answers.
Share your favorite Hocking Hills experiences!
Get Started