Your Ultimate Guide to Bison Hollow Nature Preserve
May 25th, 2020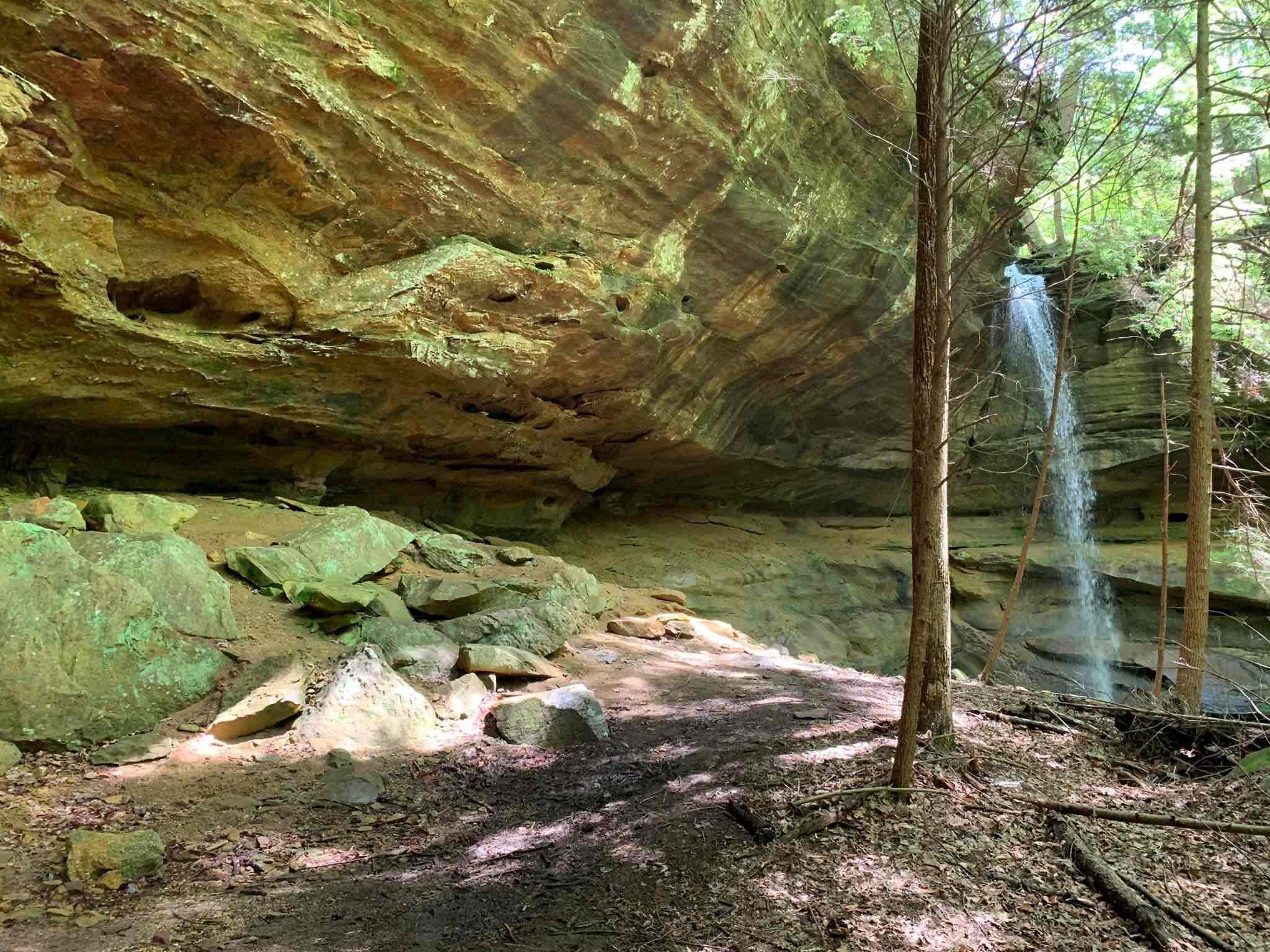 If you're looking for a spacious nature preserve with acres and acres of cliffs, wooded land, and creeks to explore with family or friends, pack your bag and set out for Bison Hollow Nature Preserve.


What is Bison Hollow Nature Preserve?
Bison Hollow Preserve is 177 acres (or 72 hectares) of protected land. The land is owned and operated by the Appalachia Ohio Alliance, a group dedicated to protecting and conserving local natural beauty.
The Bison Hollow Nature Preserve is comprised of three sections of land, stretched over 2 counties. One section of the preserve is in Hocking County and the other 2 are in Vinton County. It is part of the 8 conservation properties of Hocking Hills, along with Carpenter Hollow, Fought Preserve, Grupenhof, Bowmore, Harper, Ramblewood CE and the House Preserve.
On the southernmost edge of the preserve is the southerly exposure of the blackhand sandstone that makes up the cliffs and rock features of the Hocking Hills. Explorers in the Bison Hollow preserve will also find waterfalls, hardwood forests, and wildflowers covering stream banks.
While visiting Bison Hollow nature preserve you can also enjoy canoeing, zip lining, horse backing riding and much more!
The History of Bison Hollow Preserve
It is believed that Bison Hollow Nature Preserve was one of the final homes for the now-extinct Eastern Woodland Bison, also known as the Eastern Wood Bison. This subspecies has been extinct since 1825. Common to Pennsylvania, Maryland and Virginia, the Eastern Wood Bison was black with a grizzled face and small hump on its shoulders.
Though the Bison may be gone, the preserve still protects many other natural beauties on the land, including the east branch of Queer Creek. Locally rare plants such as the recently discovered Autumn CoralRoot Orchid make their home in the preserve and are protected by visitors and caretakers alike.
Where is Bison Hollow Nature Preserve?
Travelers wishing to visit Bison Hollow Nature Preserve should set their GPS for 26230 Schoolie Rd, Creola, Ohio, 45622. Creola is a small, unincorporated community near Allensville, New Plymouth, and South Bloomingville.
The Bison Hollow Preserve stretches across 2 Ohio county: Hocking and Vinton. The preserve is close to Ash Cave State Park and Buckeye Trail.
What Should I Bring to Bison Hollow Nature Preserve?
What Should I Bring to Bison Hollow Nature Preserve?
Drinks like water or juice, food and snacks. But please remember not to litter!
Environmentally friendly insect repellent
If you plan to hike, wear long pants that can be tucked into boots/socks to avoid bug bites, tick bites, poison ivy, and poison sumac
Binoculars
Camera
Compass
Field guides (wildflowers, birds, butterflies & other natural features)
First aid kit
Rain Gear
Sunscreen
Walking poles, if needed
What State Parks Are Near Bison Hollow Nature Preserve?
If you're visiting Bison Hollow Nature Preserve and want to check out other State Parks in the area, you're in luck! There are a few great places to visit.
Hocking Hills State Park
What?
Hocking Hills is a state park in Hocking County, Ohio, that stretches over 25 miles of natural beauty. Hocking Hills has hiking trails, rock formations, waterfalls, and recess caves. With over 200 campsites (many equipped with electricity and running plumbing), there's plenty of space for nature lovers to explore and stay.
Where?
19852 OH-664, Logan, OH 43138
When?
Trails are open from dawn to dusk.
Tar Hollow State Park
What:
Tar Hollow State Park is located in Laurelville, Ohio and is part of the larger Tar Hollow State Forest. It is encompassed by the foothills of the Appalachian Plateau and has hiking trails that extend into the state forest. Visitors can also boat, fish, and swim on Pine Lake.
Where:
16396 Tar Hollow Rd, Laurelville, OH 43135
When:
Trails are open from dawn to dusk.
Need something to do this summer or fall?
HockingHills.com
is the official website of the Hocking Hills, Ohio. Find places to stay, get important info and updates, and get insider tips on the best things to do in the area.
Where to stay near Bison Hollow Nature Preserve?
Visiting Bison Hollow Nature Preserve and need somewhere to stay? HockingHills.com is the #1 website for booking Hocking Hills Cabin Rentals with a Hot tub for an experience you'll always cherish. Bison Hollow Nature Preserve is this month's featured park! Explore Hocking Hills and all it has to offer.
Search Cabins
Contact
20160 State Route 664 South
Logan, Ohio 43138
Interest Tags
Secluded Retreats, Family Oriented, Special Interest
Nearby Activities and Attractions