Rock Mill Days
Oct 4, 2023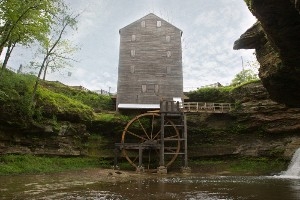 Standing 90 ft. above the gorge of Hocking River Falls is Rock Mill, a restored 1824 gristmill. In 1905, it closed for business and fell into disrepair. After a decade-long restoration effort ending in 2017, it roared to life and milled grain again for the first time in over 100 years! Come see this amazing piece of history and enjoy its beautiful setting!
This event is weather permitting.
Days and Times May Vary
Days and times may change due to weather conditions. Before visiting, check this event on Facebook, the Fairfield County Park Districts calendar of events, or call 740-243-4436.
The Documentary, Rock Mill: Saving an Original
Want to see and learn more? Rock Mill: Saving an Original is an hour-long documentary that chronicles the decade-long restoration of this amazing gristmill. The Fairfield County Park District recommends you watch it before you visit! It will enhance your appreciation of the hard work put in by expert craftsmen and volunteers. Watch it again after your visit! It is on the Fairfield County Park Districts website and YouTube channel for you to watch at any time, but if you want to purchase a DVD, they are available exclusively from WOSU Television Shop (PBS/WOSU-TV).
https://www.youtube.com/watch?v=Q1QXvh1zI94&list=PLOmMPCjRKSxKRJ7KxMgrIP9Q211iKtALg
Wednesdays & Saturdays
11:00 a.m.-2:00 p.m.
Sundays 1:00-4:00 p.m
Cost: Free
Contact
1429 Rock Mill Place NW
Lancaster, Ohio 43138
Phone: 740-243-4436
Interest Tags
Outdoor Activity, Family Oriented, Special Interest, Historical,