Modern Inspirations - Art Quilts 1970 to Today
Apr 28 (Sat) thru Jun 17 (Sun)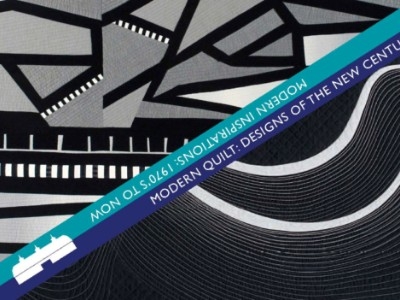 12:00 - 5:00 pm on Tue, Wed, Thu, Fri and Sat
$5.00
Free admission on Wednesdays
Members and Children under 12 are Free
Modern Quilts a?" Designs of the New Century.
Modern quilts mean different things to different people. Experience the power of modern quilts firsthand in this exhibit of innovative and inspiring quilts that represent the best modern quilts and quilters of the past decade. In this exhibit, you will see the work of modern quilters, past and present, and learn the story of modern quilting from its earliest roots and influences to today. This exhibition was organized and presented by Modern Quilt Guild.
Modern Inspirations a?" Art quilts from 1970s through today.
This exhibition documents the rich history of the art quilt movement as it relates to the development of this new quilt aesthetic. This exhibition of 30 iconic historic and contemporary quilts by master artists from around the world is a feast for the eyes, filled with gorgeous art. This engaging chronological presentation demonstrates the development and continuing power of the art quilt movement. This exhibition is presented by the Studio Art Quilt Associates.
Cost: $5/adults except Wed
Contact
8000 Dairy Lane
Athens, Ohio 45701-9393
Phone: 740-592-4981
Interest Tags
Family Oriented, Special Interest, Arts/Music/Film,
Additional Events
Nearby Activities and Attractions