Hocking Hills Zip Lines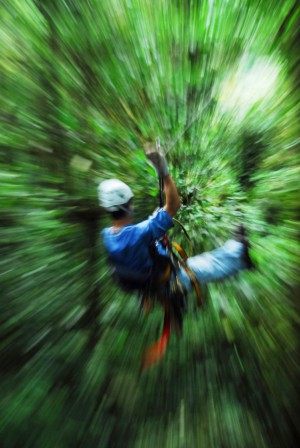 Hocking Hills is the home of Ohio's first zipline adventure attraction. Visitors can spend three hours tempting gravity while gliding along the Hocking Hills Canopy Tours attraction. In 2008 USA Today ranked Hocking Hills Ziplines as the hottest new attraction in Ohio. Visitors to the Hocking Hills Zipline can explore the treetops during a trip above caves and rock cliffs. Some conside a zipline ride the trill of a life time.
The Hocking Hills Canopy Tours opened in the fall of 2008. Zipliners are suspended on a network of cables, getting a bird's eye view of native wildlife, plants, and rocks.
Until Ohio's 2nd zipline, Ozone Zipline Adventure in Warren County, opened in 2009 the Hocking Hills Ziplines were the only ziplines in Ohio. Go and enjoy the fun!
New in 2010 is Hocking Peaks Adventure Park

.Easy to find being located on State Route 664 (one of the main routes to Old Man's Cave) just a couple of miles past Walmart and one of our Visitors Centers. Hocking Peaks Adventure Park offers ziplines, ATV rentals, paintball, disc golf, as well as an OGO course!
New in 2012 is Valley Zipline Tours

.

Valley Zipline Tours is located in the foothills of the historic and beautiful Hocking Hills. Our goal is to bring that beauty and history to you in a way that is not only fun and exciting, but also educational. Our farm has been deeply involved in conservation and education since 2009. Aquaculture and forestry / timber are our main resources, here at Kinniard Farms. We cannot wait to show off the land on the newest addition The Valley Zipline Tours. We have poured our heart and soul into building what is now the largest course in Ohio. 3465 Duffy Road, Lancaster Phone: 740-654-3392
New in 2013 is Soaring Cliffs

. Soaring Cliffs offers a zip line experience unlike any other in the Hocking Hills. The lines are set over a natural gorge complete with sandstone rock formations, wildlife, and a seasonal waterfall. Because all launch and landing sites are at ground level, guests have the opportunity to explore the caves and additional waterfalls along the course trails or simply sit and take in the breathtaking scenery while waiting for their turn at each zip location. The views are amazing, the rush is incredible, and the experience is unforgettable. 24719 Miller Road, Rockbridge Phone: 1-855-ZIP4Fun