Black Ridge Cabins
Black Ridge Cabins

Laurelville, Ohio 43135

Phone: 614-327-1946

Web Site:

www.blackridgecabins.com

Property Overview

LODGE at CLEAR CREEK and HIGHPOINT RETREAT-Chosen 'Top 3 Luxury Cabins' in Hocking Hills by New York's Luxury Living Magazine! Feature story and Virtual tours on website! Pool tables, hot tubs, private theatre rooms with 109" projection screen. LODGE is 3500 sf, 4BR and sleeps 14, HIGHPOINT RETREAT is 5000 sf, 6BR and sleeps 24. Why not stay at the Best?
Accommodations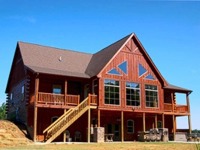 Black Ridge HighPoint Retreat
- The Ultimate Family Retreat Named Top 3 Luxury Living Cabins in Hocking Hills State-of-the-art THEATRE SYSTEM w/109 inch screen The largest and highest elevated rental home in Hocking Hills to date offering amazing views. 5000 sq ft, 6BR and 3 Baths.
Maximum Occupancy: 20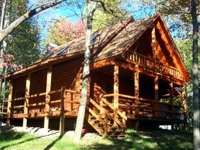 Black Ridge Cabin
- Featured in New York''s Luxury Living magazine Absolute privacy, 2100 sq ft and 3 levels, plenty of room for the whole family. Immaculate Viewing deck, Pool Table, Hot Tub and seclusion
Maximum Occupancy: 8
Combined Featured Amenites
(The most commonly requested Hocking Hills amenities are listed in bold)
•

Hot Tub


•

Wood Burning Fireplace


• Gas Log Fireplace
•

Big Screen TV


• Cable Television
• Satelite Television
• DVD Player
•

Fire Ring


•

Air Conditioning


• Pool Table

• 2 Bedrooms
• 3 Bedrooms
• 4 Bedrooms
• 5+ Bedrooms
• Full Bed
•

King Bed


•

Queen Bed


• Bunk Bed
• Futon
• 2 Baths
• 3+ Baths
• Gas Grill
• Charcoal Grill
•

Wedding Facilities



•

Suited for Children


• Laundry Facility
•

ADA Compliant


•

No Smoking Inside


• Telephone
• Television
• Stereo System
• VCR Player
• Foosball Table
• Board Games
• Movies

Visitor Reviews
Rating

4 out of 5

Peaceful Retreat

Review Posted:

May 23

Date of Visit:

May

We spent two lovely nights at Black Ridge Cabin. Everything was clean and welcoming. We enjoyed the outdoor fire and hot tub, after a day exploring this very beautiful area. Hope to return soon!
Rating

4 out of 5

Wonderful cabin in the woods!

Review Posted:

May 22

Date of Visit:

May

This was the perfect size & location for our hocking hills vacation. We have a family of six & there was plenty of room. The kids loved the loft area & the basement. We heard pool balls knocking at all hrs of the day. We stayed at black ridge cabin & loved it! The winding secluded roads were beautiful. Cabin was clean & comfortable. Would definitely return.
Rating

4 out of 5

QUIET SECLUSION

Review Posted:

Dec 14

Date of Visit:

January

I LOOK FORWARD TO OUR WEEK LONG RETREAT EVERY YEAR. I'M NEVER DISAPPOINTED. I'M ALWAYS VERY SAD WHEN WE HAVE TO LEAVE, BUT COME HOME TOTALLY RELAXED. I DID MISS WHISKEY. I WAS REALLY LOOKING FORWARD TO SEEING HIM THIS YEAR.
Rating

5 out of 5

2nd Visit

Review Posted:

Oct 9

Date of Visit:

October

This was our 2nd trip! Great place very clean and no noise except nature. My wife and I intend to return every year! We have rented other places and by far Mark out does the others! Thank you Mark for offering the use of such a fabulous property.
Rating

4 out of 5

Spacious Property.

Review Posted:

Sep 19

Date of Visit:

September

Only 3 bathrooms for 5000 SFT House. Property owner is a bit inflexible.

Management Comment:
Sorry I cannot allow a large group to stay 2 hours past Checkout time when I have another large family group checking in the same day. I do not consider this being 'inflexible' as much as being courteous to subsequent guests and my cleaning crew. It's too large of a property to clean and turn over in just 3 hours. The laundry alone usually takes 4 hours. Also, the number of bathrooms are listed when booking so should be no surprises.
Rating

5 out of 5

What a wonderful experience!!

Review Posted:

Jul 31

Date of Visit:

July

We spent two nights at the Black Ridge cabin and loved every minute of it. We did day trips to several of Hocking Hills' attractions and did a lot of hiking. It was great to unwind in the whirlpool at the end of the day. We also roasted hot dogs in the fire pit one evening. Just fabulous. Thank you Mark Black.
Rating

4 out of 5

beautiful property! very private

ryan christina,

Roanoke, VA

Review Posted:

Jul 17

Date of Visit:

July

I had my wedding at High Point Retreat this past weekend. Everyone was impressed with how beautiful the property is! I loved staying there :)
Rating

5 out of 5

Wonderful!

Review Posted:

Jul 15

Date of Visit:

May

Beautiful beautiful place. Was exactly what we were looking for. Private and quiet. The perfect get away for my husband and I. Can't wait to go back!
Rating

4 out of 5

Peaceful weekend at a gorgeous location

Review Posted:

Jul 15

Date of Visit:

May

We had an amazing ladies weekend at HighPoint Retreat!! Everything was perfect & our weekend will be one that I will remember forever. It was so wonderful to get away from our busy & hectic schedules for 2 nights & the cabin was exactly what we were looking for!! We've told so many people about the cabin and our stay & how wonderful the accommodations were!! Thank you so much Mark!!
Rating

4 out of 5

Even in the winter

Review Posted:

Feb 15

Date of Visit:

February

My wife and I needed a peaceful few days together. This was our first time to Hocking Hills. the Black Ridge cabin was clean, beautifully decorated and comfortable. I loved Mark and Pam's openness about their faith in Jesus. The decorated gifts left behind by previous renters made me smile. We hiked in Old Mans Cave and had a picnic in the middle of winter.
Rating

5 out of 5

Excellent Hocking Hills Rentals

Review Posted:

Feb 2

Date of Visit:

March

We have stayed in all three of the Black Ridge Cabins. Each of them are clean, well appointed, and Mark is extremely responsive to his rentals. All three are recent builds and are well maintained. Our family and friends recommend Black Ridge Cabins without hesitation.
Owner Submitted Guest Review

Review Posted:

Jan 30

Date of Visit:

December

Another fabulous stay with Black Ridge Cabins! God is great and He created a majestic place in Hocking Hills to stop and listen to Him. Thanks for your hospitality. What a great place to end the year together. Joe and Mary Ellen Johnson, Beavercreek Ohio
Owner Submitted Guest Review

Review Posted:

Jan 30

Date of Visit:

November

Thankgiving 2011 - Our family enjoyed spending quality time together and all agreed it was our Best Thanksgiving ever! Kids love the game room, theatre room and Hot Tub. All enjoyed smores and hot dogs roasted at the fire Thanks for memories that will last a lifetime. Joe and Melinda Kirkendall
Owner Submitted Guest Review

Review Posted:

Jan 30

Date of Visit:

April

What a beautiful place! I have waitied for years to visit here with my Christian sisters. We all needed a getaway together and this was refreshing. Looking forward to coming again and making this our annual gatherng. Lisa Nelson - Reynoldsburg Ohio
Owner Submitted Guest Review

Review Posted:

Jan 30

Date of Visit:

April

PSALM 91 speaks of the secret place where God abides. The weekend at HighPoint Retreat was a 'secret place' experience! Thank you Mark Black for the vision of this secret place where others can come, have shelter, peace, enjoy nature, enjoy luxury and commune with God! Love and prayers, Gwenell Brock, New Covenant Church
Rating

4 out of 5

Stop looking this is the best!

Review Posted:

Jan 30

Date of Visit:

September

We stayed at Black Ridge Lodge-Clearcreek for a girlie weekend. The lodge is amazing! I am a clean freak and was impressed how clean this place is. The owner was very nice in helping with any questions and my friend lost an earring and I called and they found it and were kind enough to mail it to her.
Reviews are the subjective opinions of Hocking Hills visitors and not of HockingHills.com
Web Site:
www.blackridgecabins.com