How The Grinch Stole Christmas and The Year Withou
Nov 30, 2017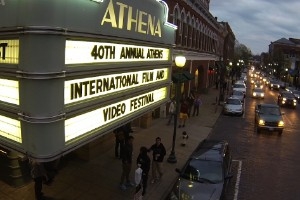 7:00 pm
How The Grinch Stole Christmas and The Year Without A Santa Claus.
Grinch - Director: Chuck Jones, Ben Washam. Cast: Boris Karloff, June Foray.
Santa - Director: Arthur Rankin Jr., Jules Bass. Cast: Mickey Rooney, Shirley Booth, Dick Shawn, George S. Irving.
November 30th through December 16th, Ohio University s Athena Cinema will partner with the Department of Real Estate Management, Community Engagement and Economic Development to show popular holiday family films. The price of admission will be a minimum donation of one canned or non perishable food good per ticket to be donated to Athens City Food Pantries and other hunger relief programs. Cash donations are also accepted. As part of the event patrons will also receive a complimentary snowflake cookie to enjoy during the movie.
Kicking off the Holiday film Series with two beloved Christmas movies for the whole family. We will be playing these two classics the night of the Athens Tree Lighting Celebration on Thursday at 7pm.
First, a bitter and hateful Grinch is making his way to the Athena in the 1966 traditional Christmas movie, How the Grinch Stole Christmas. Irritated at the thought of the nearby village having a happy time celebrating Christmas, he raids the village dressed as Santa Claus to steal Christmas.
Then the 1974 Christmas TV classic, The Year Without a Santa Claus. When a weary and discouraged Santa Claus considers skipping his Christmas Eve run one year, Mrs. Claus and his Elves set out to change his mind.
Cost: Donation-Canned Good
Contact
20 South Court Street
Athens, Ohio 45701
Phone: 740-592-5106
Interest Tags
Family Oriented, Special Interest,
Additional Events
Nearby Activities and Attractions