Thanksgiving at Lees Banquet Haus
Nov 23, 2017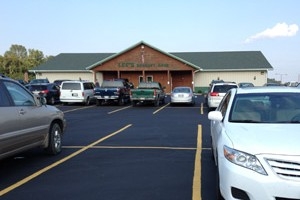 11am - 3pm.
Pricing - $15.95 adults, $5.95 ages 3-10, Free ages 3 and under.
All you can eat Buffet includes: Broasted Chicken, Roast Beef, Roast Turkey, Carved Pit Ham, Whipped Potatoes, Escalloped Potatoes, Sweet Potatoes, Noodles, Macaroni and Cheese, Variety of Vegetables, Endless Salads, Rolls and a Wide Assortment of Homemade Desserts.
Reservations Recommended.
Cost: $15.95/adults, $5.95/ages 3-10
Contact
428 East Front Street
Logan, Ohio 43138
Phone: 740-385-7639
Interest Tags
Family Oriented, Special Interest,
Nearby Activities and Attractions