Green Grass of Wyoming Grand Re-Showing
May 24, 2018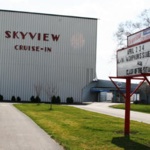 The show begins at dusk.
Join us for the 70th Anniversary of -Green Grass of Wyoming- Lancaster's own movie and the 70th Anniversary of the opening of the historic Skyview Drive-In Theatre in Lancaster, Ohio.
The movie Green Grass of Wyoming, that had its climax filmed in Lancaster at the Fairfield County Fairgrounds will celebrate its 70th anniversary of the 1948 opening. Also opening in 1948 was the Skyview Cruise-In theater in Lancaster, which remains open to this day.
There will be a special screening of the film on May 24th. As a way to celebrate there will be no admission charge that night.
The movie is based on the book of the same name by Mary O'Hara, which was the last in a trilogy that included My Friend Flicka and Thunderhead. the climax of the film features a horse trotting race filmed at the local fairgrounds track. Many area residents served as extras.
--According to an article in the May 5, 1947 Eagle-Gazette, --The movie prospectors climbed Mt. Pleasant for a birds eye view of the grounds. In the opinion of Mr. Clark, the photography director, the scenic setting of the fairgrounds has no equal in the U.S.--
The Skyview holds 500 vehicles and will fill up quickly. Special thanks to Walt Effinger for agreeing to show the film for free so new generations can enjoy it. Please visit the snack bar that evening to help cover the theaters expenses.
Cost: Special Open to the Public
Contact
2420 E. Main Street
Lancaster, Ohio 43130
Phone: 740-653-5517
Interest Tags
Outdoor Activity, Family Oriented, Special Interest, Arts/Music/Film, Historical,
Nearby Activities and Attractions