The Polar Express
Dec 16, 2017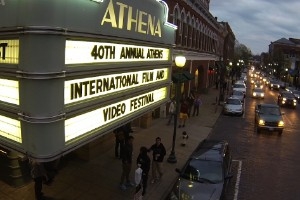 1:00 pm
The Polar Express
Director: Robert Zemeckis. Cast: Tom Hanks, Chris Coppola, Michael Jeter.
November 30th through December 16th, Ohio University s Athena Cinema will partner with the Department of Real Estate Management, Community Engagement and Economic Development to show popular holiday family films. The price of admission will be a minimum donation of one canned or non perishable food good per ticket to be donated to Athens City Food Pantries and other hunger relief programs. Cash donations are also accepted. As part of the event patrons will also receive a complimentary snowflake cookie to enjoy during the movie.
Based on a children s book by Chris Van Allsburg, The Polar Express revolves around Billy (Hayden McFarland), who longs to believe in Santa Claus but finds it quite difficult to do so, what with his family s dogged insistence that all of it, from the North Pole, to the elves, to the man himself, is all just a myth. This all changes, however, on Christmas Eve, when a mysterious train visits Billy in the middle of the night, promising to take him and a group of other lucky children to the North Pole for a visit with Santa. The train s conductor (Tom Hanks) along with the other passengers help turn Billy s crisis in faith into a journey of self-discovery.
Cost: Donation-Canned Good
Contact
20 South Court Street
Athens, Ohio 45701
Phone: 740-592-5106
Interest Tags
Family Oriented, Special Interest,
Nearby Activities and Attractions