| | |
| --- | --- |
| Hocking Hills State Parks - Cedar Falls | click photo to see larger picture |
---
Cedar Falls
If one were to venture down the Lower Gorge of Old Manís Cave, you would eventually enter the picturesque valley of Queer Creek.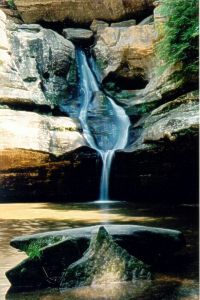 At the point where Old Manís Creek merges with Queer Creek, the trail takes an abrupt turn east and enters this new valley. The trail leading to Cedar Falls passes through the most austere area in Hocking Hills. This remote, primitive chasm is laden with hemlock and bound by steep rock walls and their accompanying grottos and waterfalls. It is a wild and lonely but spectacularly beautiful place.
Cedar Falls itself is the greatest waterfall in terms of volume in the Hocking region. Queer Creek tumbles over the face of the Blackhand displaying the awesome force of water power.
In the mid 1800ís, a grist mill was built above the falls to utilize this water power for grinding grain.
Cedar Falls was misnamed by early white settlers who mistook the stately hemlocks for Cedars. A well kept picnic area and latrines are located within a short walk from the falls.
View Cedar Falls Hiking Trail Map.
View Cedar Falls Water Fall from the bottom of the gorge.
---
State Parks