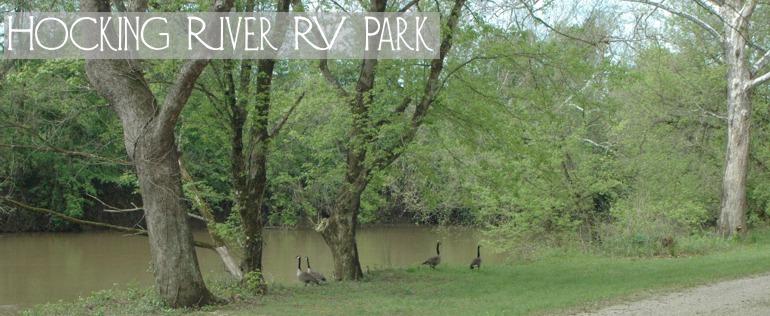 Imagine an RV park nestled among the trees beside an idyllic, slow-moving river.
Well, it's here in Hocking Hills, OH!
Campground is within walking distance to Canoe Livery, ¾ mile to Kroger's, 2 miles to Lake Logan, 10 minutes to zip lining, 11 miles to Old Man's Cave, 2 miles to restaurants and shopping.
Most sites are 54' long pull-throughs, in a straight row along the Hocking River. Sites 26 and 28 are back in for smaller RVs.
Shower House is closest to site #15 off to the side (no plot map avail.)
ALL SITES ARE ON THE RIVER.

We do not offer tent sites but you can put a tent on an RV site. No more than 6 people are allowed on a site. You may put a tent and an RV on a site as long as there are no more than 6 people total.

All sites have fire rings, picnic tables, 30 amp electric(sites 1-6 and 14-20 ALSO have 50 AMP). Shower house is in the middle of campground.
Water spigots are on each end of campground. Dump station is located on one end.
Picnic pavillion is in the center of campground.
---
---
Hocking River RV Park offers 27 spaces with electric out in the country but close enough to town and just minutes to Old Mans Cave, Ash Cave, Cedar Falls and all the other Hocking Hills natural wonders.
Hocking River RV Park is the perfect spot for you to set up your "base camp" before you go off exploring caves, hiking, observing natural wildlife or even zip lining. Or maybe you'll just want to stay put and enjoy swimming, tubing, fishing or kayaking on the river.
---
FEATURES:

River View
Fire Ring
Picnic Table
Swimming in the River
30 AMP Electric hook-up at each site
Shower House
Dump Station
Water available in campground for filling up tanks, not at each site
---
Ash Cave
Conkle's Hollow
Old Man's Cave
Cedar Falls
Rock House
Cantwell Cliffs
Buckeye Trail
Lake Logan

Horseback riding trails
Rose Lake (fishing)
Antique & craft shops
Canoe liveries
Unique specialty shops on the Dogwood Trail
Hiking trails
Restaurants and shopping
Our family recently stayed three nights at Hocking River RV Park. We found the park very clean and relaxing. The sites are flat and the concrete pads make for easier clean up. The new shower house was very clean and assessable. The sites are close enough to the river to watch the canoers. The campground is small and quiet but offers all the accommodations you need. We would recommend Hocking River RV Park to anyone wanting to visit all the local attractions or anyone wanting to sit and relax at the camp ground. It's a beautiful place nestled in the trees. We have already made our future reservations. Can't wait to go back !
- R. Gelles
---
RATES: (We are open from Mid-April - End of October)
Weekdays
Weekends & Holidays
$25
$40

Rate is based on6 guests.

1 night minimum
Holidays there is a 3 night minimum.

We do not offer discounts for long term stays or monthly rates..

Check Current On-Line Availability

Campground is owned by the Nazerene church and they respectfully request that there be no drinking or smoking done outside of RV, thank you

Cancellation Policy:
You may cancel up to 2 weeks from arrival for a $10 fee.
No refunds given if cancelled 2 weeks from arrival date.
Managed By Cabins in Hocking
---
For reservations or for more information please call:
Hocking River RV Park
Hocking Hills Region
Logan, Oh
Phone: 740-331-4840
[email protected]