Secrets in Our Garden
Sep 9, 2017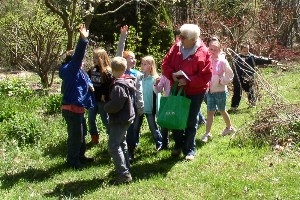 8:30 am - 4:00 pm
Join the Hocking County Master Gardener Volunteers for their inaugural day of training at Bishop Educational Gardens.
You will choose five of the following - Garden Walk. Tree Identification and Invasive Plants. Pollinators. Container Gardening. Seed Saving for Next Years Flowers. Compatible Plants/Plant Certain Flower or Herbs for Trouble Free Gardens. Re-potting/Bringing in Plants for Colder Weather, Bulb Splitting and Begonia Storage. Edible landscapes. Julie Zickefoose, Personal Habitat Talk.
First 40 registered have seating. Remainder is standing room only. Additional surprises throughout the day. 5 CEU hours are being offered for this day.
The Keynote speaker is Julie Zickefoose. Writer, Artist and Naturalist. -Personal Habitat: Creating A Haven for Wildlife (and Yourself)-. This is the story of an artists love affair with a piece of land, and the birds, animals and plants that inhabit it. Simple habitat enhancements can take a backyard from bland to bustling with wildlife. In her slideshow presentation, Julie shares how she, and her husband, lovingly transformed their 80 acre abandoned farm into a wildlife sanctuary and observatory - and a perfect personal habitat.
8:30am - Registration and Coffee. 9-9:30am - Welcome. 9:45-11:45am Workshops. 11:45am-12:45pm Lunch. 1:00-2:45pm Workshops. 2:45pm Closing Remarks.
Cost: $30-35 per person
Contact
13200 Little Cola Rd.
Rockbridge, Ohio 43149
Phone: 740-385-3222
Interest Tags
Outdoor Activity, Special Interest, Wildlife,
Nearby Activities and Attractions