March to the Music Final Friday
Mar 31, 2018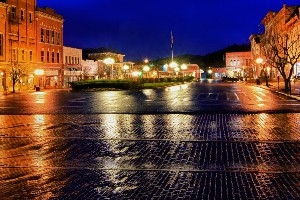 6:00 - 9:00 pm
Final Fridays on the Square, March to the Music in Nelsonville, Sing to Spring. Many musical delightsa?| and new art works that will surprise and delight audiences.
Easter Happenings with River Road Rabbit Rescue
Special Musical Happenings:
B & B Karaoke at The Mine (from 8 to midnight)
Bluegrass with Wolf at Starbrick Gallery
Music by William and Tatum L'Heureux at the Nelsonville Emporium
Kay Carter at The Rhapsody
Karaoke at the First Presbyterian Church
Poetry Readings at Stuart Opera House
Majestic Galleries: Opening Night: If Town, award winning ceramist Kelsey Duncan presents his Ohio University Ceramic Thesis Exhibition. In the Front Gallery: New Work from Danette Pratt.
Starbrick Cooperative Gallery: Opening Night: Hocking Hills Artists Invitational. Artists who live in, work in & are inspired by the Hocking Hills present ceramics, glass, wood carvings, paintings, pen & ink drawings & photographs. Musical offerings: Bluegrass with Wolf
Paper Circle: Opening Night: Whispering to the Earth, an exhibition by accomplished fiber artist Char Norman. The show will feature papermaking and fiber sculptures that present the symbiotic and sacred relationship between nature and people.
Majestic Annex: Opening Night: Circus Light by Tere Sager. Step right up and see the mixed media paintings.
Stuarts Opera House: Opening Night: A Poetry Reading featuring Poet in Residence Wendy McVicker and participants in our Creative Writing Class. 6:00pm-7:30pm. Reception to follow.
Sponsored by: Stuarts Opera House, Nelsonville Public Library, The Ohio Arts Council, and Rocky Community Improvement Fund.
And: Hard Hat Construction Tours: Get a tour of the new space at Stuarts Opera House and see what is going on behind the construction. Brian will be leading tours of the new space at 30 Public Square and the expanded lobby underneath the Opera House. Hard hats provided, space is limited. Tours will leave at 6:00pm, 7:00pm, and 8:00pm and meet in Stuarts Opera House.
The First Presbyterian Church: Pop-Up Art Show featuring the musically inspired work of Dottie Fromal & Tyann Altier. Musical offerings: Join in and sing Karaoke.
Nelsonville Emporium: will have live bunnies and lots of chocolate for your enjoyment. Musical offerings: William and Tatum L'Heureux. Big sales end soon.
The Hive: Stop in and visit the new youth program from Integrated Services. 27 W. Columbus Street.
On the Square:
Make Mine Chocolate - Our mission is to urge people to not buy bunnies as Easter gifts, but rather buy chocolate, toys, & stuffed bunnies. River Road Rabbit Rescue will bring bunnies, and have an Easter Bunny for photo ops. There will be some small items for sale to raise money for the rescue, as well as a Jelly Bean Counting Contest. Wear your craziest most creative ears for the Best Bunny Ears Contest, winners announced at 8pm at the Nelsonville Emporium.
Cost: Free Events
Contact
46 Public Square
Nelsonville, Ohio 45764
Phone: 740-753-4346
Interest Tags
Outdoor Activity, Family Oriented, Special Interest, Arts/Music/Film, Ongoing Events,
Additional Events
Nearby Activities and Attractions