6 Days in the Saddle - Ohio Adventure Weekend
Jun 10 (Sun) thru Jun 16 (Sat)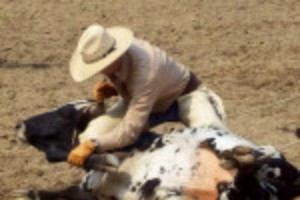 Sit Back and Enjoy the Ride! Let Smoke Rise Ranch and Resort plan your next horse trail riding adventure in Ohio! Our Wranglers will guide you to some of the best riding and meals in the Hocking Hills Region! Enjoy the Wayne National Forest, Trimble Wildlife Area, Hocking Hills State Forest, 9:00 am sharp each day.
Zaleskis State Forest and our own 2000 private acres. Then let us just throw in our famous CATTLE DRIVE to spice things up. This ride is for those serious trail riders who want to spend 6-8 hours a day in the saddle. Each day we will pick a different trail and a different adventure. Each night we will enjoy the local venues, including Rocky Boot Outlet and Hocking Hills Winery.
June 10th, Sunday - Arrive Reception, Pool Party, Campfire at the Clubhouse.
June 11th, Monday - Ride the Ranch. 6 hour ride around the ranch property and trails. Dinner at the Mexican Restaurant.
June 12th, Tuesday - Zaleskis Moonville Tunnel Ride. 8 hour ride in the Zaleski State Forest. Ride to Moonville Tunnel and Uncle Bucks for a Drink.
June 13th, Wednesday - Burr Oak State Park. 6 hour ride includes Burr Oak trails and ride back to SR. Visit Rocky Boot Outlet. Dinner at the Rocky Boot Grill.
June 14th, Thursday - Ride the Hills - Hocking Hills Region. Ride 7-8 hours at Hocking Hills State Park and Forest. Dinner at the Millstone BBQ.
June 15th, Friday - Cattle Drive. Smoke rise Ranch. Drive the cattle in from the range, work on Banding and doctoring. Hocking Hills Winery Tour.
June 16th, Saturday - Stone Church Day Ride. 4-6 hours on the trails in the Wayne National Forest, DJ, Campfire and Closing dinner. June 17th, Sunday - Cowboy Church.
Package price includes: Experienced Wranglers on the trails with knowledge of local area. Opening reception, fees for parking, permits and riding trails. Saturday ranch dinner and dance. Daily use of the arenas, trails and pool. Ranch will make all necessary travel arrangements with local trails, restaurants and venues. $50 for guests staying at the ranch and permanent campers. $75 for non-ranch guests who want to join us for the event. Package price is set, regardless of days you ride or do not ride.
Cost: Assorted Costs
Contact
6751 Hunterdon Rd
Glouster, Ohio 45732
Phone: 740-767-2624
Interest Tags
Outdoor Activity, Family Oriented, Special Interest, Wildlife,
Additional Events
Nearby Activities and Attractions