Family Day at Trailfest Celebration 2018
Apr 26, 2018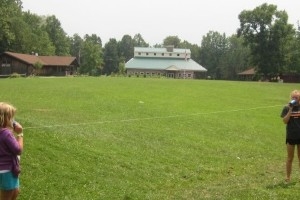 9:30 am Arrive at Camp Oty Okwa - Restrooms are available at the large, white barn at the entrance to camp and at the dining hall near the shelter where we will meet for our 10:00 am hike to Split Rocks. Meet your leader, Heather Stehle (and her elementary-age sons), at the shelter near the flagpole between 9:30 - 10:00 am. Heather is a local resident, Director of Crane Hollow Preserve, and a Buckeye Trail Association Board Member. If you have problems finding us, call Heather on her work cell at 740-438-5777. Verizon and Sprint cell service work the best in the Hocking Hills area.
10:00 am hike - Split Rocks - Rock On. Join us for this family friendly hike where we will explore the Split Rocks area of Camp Oty Okwa. The 200-acre forest surrounding Split Rocks is dedicated by the Old-Growth Forest Network. Here, perhaps as the result of a past earthquake, the massive Black Hand Sandstone has split into numerous large vertical slabs creating a maze-like feature on the interior.
12:00 pm Lunch - Hike back to the main area of camp to eat lunch and use the restrooms. We can eat as a group or if you are camping on-site, you'll have time to return to your area to retrieve items, use the restrooms, etc.
1:00 pm Art Exploration: Inspired by Blazes of Blue. This family friendly program will introduce participants to local artist, Norm Fox, who will guide us as we transform our intangible inspirations from the trail into tangible, meaningful works of art. Each participants efforts and artwork will be supported and encouraged. All supplies provided. You may -make and take- your project(s) or you may choose to display them to inspire all of the other Trailfest participants.
Afternoon - Continue making art as long as you'd like. Or enjoy time with your family exploring the trails. Get together with your new friends and hike as a group! Staying for dinner and evening program? We welcome you to enjoy dinner with the other Trailfest participants (payment/signup required) and then enjoy the evening program! Just remember to register for these items separately on the registration form.
Ages 11+ Staying for Dinner? - $13 each
Children ages 0-10 receive free meals. Please designate their meal choices when adding them on the actual registration form.
Please indicate dinners for the REST of the family here.
Ages 11+ Sunday Breakfast - $8.50 each. Children 0-10 eat free, please designate their meal choice when adding them on the actual registration form. Tent Camping - $10.00
There is plenty of room to pitch a tent at Camp Oty Okwa. There is no need to rush away from such a beautiful location. $10 covers the cost for the whole family. Sunday TrailFest Celebration events are free but are primarily focused on the BTA Annual Business Meeting.
Cost: $10 - Family Day Only/limit 5
Contact
2478 Purcell Rd.
South Bloomingville, Ohio 43152
Phone: 740-394-2008
Interest Tags
Outdoor Activity, Family Oriented, Special Interest, Wildlife,
Nearby Activities and Attractions